Seeglass the best glass enclosure choice
for terraces, balconies, gardens or commercial spaces.
Seeglass is glass enclosing system without vertical profiles which allow you enjoy your terrace all year around.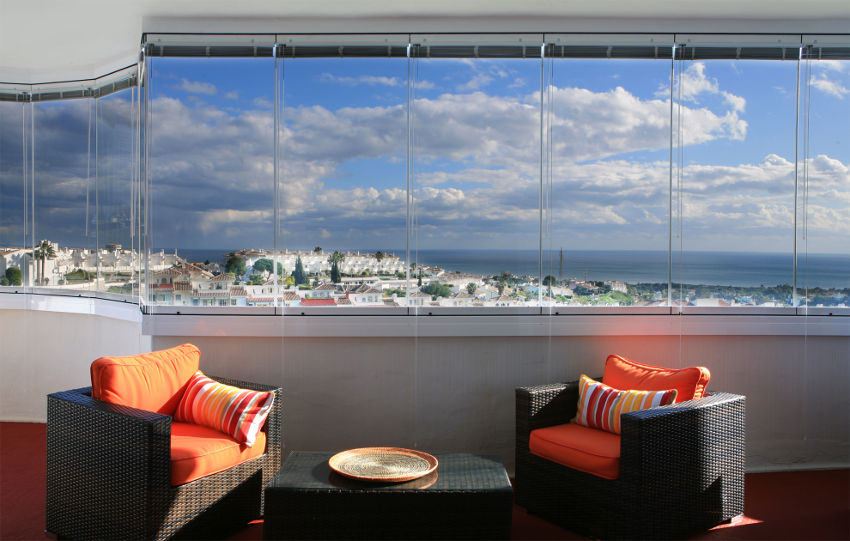 Get your quote!!
Seeglass is a glass enclosing system without vertical profiles, very popular between main installers and professionals.
Seeglass includes glass curtains without vertical profiles allowing a complete brightness as well as having a limitless view.
The system does not disrupt building´s aesthetics, and it adapts perfectly to any kind of architectural style. Seeglass system increases buildings value, as well as protects its structure and elements against harsh weather conditions.

Seeglass is a perfect choice for balconies, terraces, and gardens, as well as for commercial spaces as restaurants, bars, hotels, stores and offices.
Easy installation and maintenance
Seeglass is an innovating system which allows the usage of terrace, balcony, and garden during harsh weather without breaking building´s aesthetics. Seeglass also reduces the outside noise and it saves money on heating and cooling of the household. The installation of the system is simple due to the fact that only lower and upper profiles need to be installed. It is easy to use and to clean.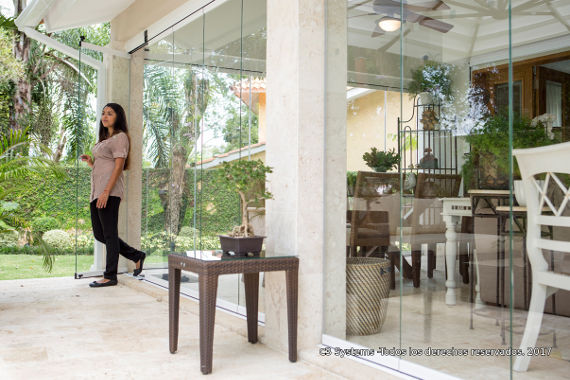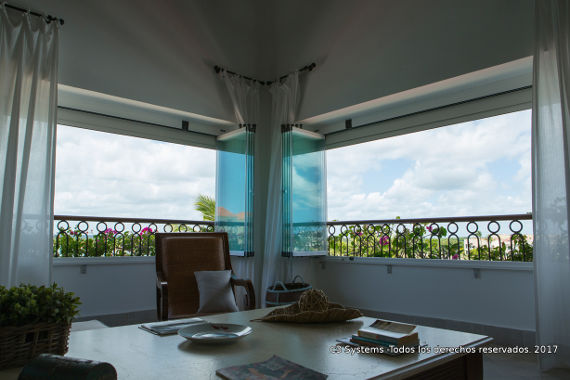 The glass used for this type of systems is high quality tempered glass, which resists up to five times more than a normal glass. Our tempered glass has a CE mark and certification.
Seeglass system is sliding and foldable system which can be used by anyone.
Why should you choose our system instead of some other system?
Our quality is certified by a CE certificate. In order to obtain this certificate, our products had to go through a series of tests and controls according to the norm UNE EN 14351 – 1: 2006. C3 SystemS, S.L. has all the accreditation necessary which can be found on our website.
Seeglass system is fully guaranteed, and we produce it and have it ready for a delivery from 15 to 25 days.
And we offer a 15 year guarantee!!
We recommend you not to purchase glass curtains without CE guarantee, and without original documentation.
Wide range of products
Our Company is constantly improving our existing products and innovating with new products. We do so by invest in our R+D department. This is the reason why we have a wide range of products.
Seeglass products for different needs:
Beside our glass enclosing systems, we also have complementary products to go with. Habitat Net mosquito net adaptable to any Seeglass system, and Habitat Sun plisses and venetians for Seeglass system for sun protection.