08/08/2019
Introducing the new C3 Systems B2B
Today we present the new C3 Systems B2B, a program designed for our distributors to optimize the management of their orders and have direct access to the other tools we offer such as: commercial documents, online budget, technical courses, video tutorials, etc.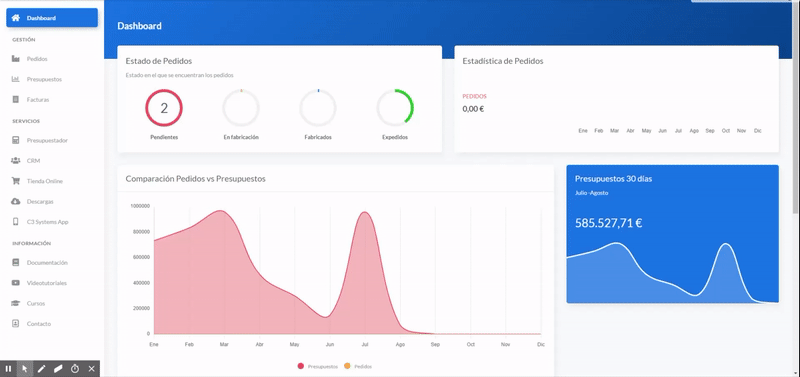 This program is developed in Spanish, French, English and Italian and its main objective is to facilitate access to the relevant information of the distributors from the computer or laptop.
The C3 Systems B2B is divided into three main sections that we will explain below.
Management
The Management section includes the consultation of orders, budgets and invoices. The user can check the status of their orders, the date of registration and the expected delivery date, as well as view and download the invoices.
The Budgets subsection also allows the user to see the details of each of their budgets. In this way, the distributor has a more efficient commercial control of the proposals delivered to each customer.
This section tries to simplify the management of C3 Systems distributors by providing a visually attractive interface with optimized usability for querying data regarding orders, invoices and budgets.
Services
The services section includes subsections related to the different tools that C3 Systems makes available to its distributors.
From the Services section, the user will be able to access the Online Budget which allows obtaining a budget to formalize an order for all products.
In addition, you can also access the final user database, the Online Store to place orders for commercial material or meetings or the Mobile App for IOS or Android. It also includes a Downloads section where the user can consult and download templates, manuals, tests or catalogs of the products in order to know technical details of each product.
The objective of this section is that the distributor can quickly access the tools that make up the SeeGlass universe, optimizing time and facilitating consultation.
Information
In the Information section, the associated distributor can consult the documentation of all the products, sign up for the company's training courses or view the installation video tutorials.
A Contact section is also included so that the distributor can transfer the doubts or queries to the technical manager of each area, thus improving the consultation time.